Note: This repo has been deleted, and this information is listed for archival purposes only
ListenBrainz 2
Download
https://github.com/marc2k3/foo_listenbrainz2/releases
Minimum requirements
Windows 7 and foobar2000 v1.5.
Installation
https://wiki.hydrogenaud.io/index.php?title=Foobar2000:How_to_install_a_component
What is ListenBrainz?
Why foo_listenbrainz2?
Somebody else already beat me with the original name here: https://github.com/medvid/foo_listenbrainz
I decided to write my own because the above version blocks the main thread and freezes the UI when submitting. Also, my version submits artist/recording MBIDs if present in your files. This makes artist/title links on your recent listens page clickable and will lead you to the respective pages on musicbrainz.org
Note that foobar2000 does not support reading UFID tags that are written to MP3s by MusicBrainz Picard.
Preferences
Enter your ListenBrainz token and check the other options under File>Preferences>Tools>ListenBrainz 2.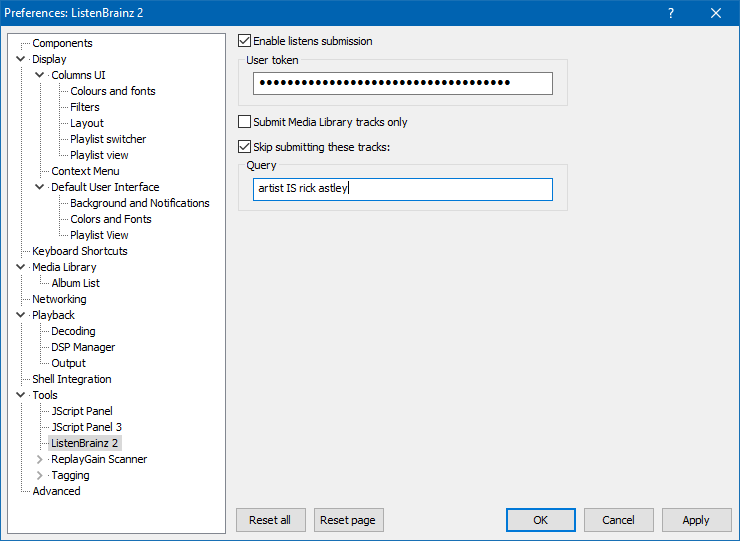 Now just listen to your music and watch the Console for server responses and/or check your recent listens page. Like Last.fm, you must listen to at least half the track or 4 minutes - whichever comes first.
As of v1.1.0-Beta.2, the following tags are submitted:
Required (tracks without them are silently ignored)
Sent if present
ALBUM ARTIST
ALBUM
DATE
TRACKNUMBER
TOTALTRACKS
DISCNUMBER
TOTALDISCS
ISRC
MUSICBRAINZ_ARTISTID / MUSICBRAINZ ARTIST ID
MUSICBRAINZ_TRACKID / MUSICBRAINZ TRACK ID
MUSICBRAINZ_ALBUMID / MUSICBRAINZ ALBUM ID
MUSICBRAINZ_RELEASEGROUPID / MUSICBRAINZ RELEASE GROUP ID
MUSICBRAINZ_RELEASETRACKID / MUSICBRAINZ RELEASE TRACK ID

If any tags are multi-value, only the first value is sent.
Caching of failed submissions
This feature was added in v1.1.0-Beta.1 and happens automatically. You don't need to do anything to trigger it. If you're offline/ListenBrainz is down, the Console will report each time a listen is cached and the next time you submit a successful listen, an attempt will be made to submit all cached entries.
Limitations
Currently there is no support for streams or tracks of an unknown length.